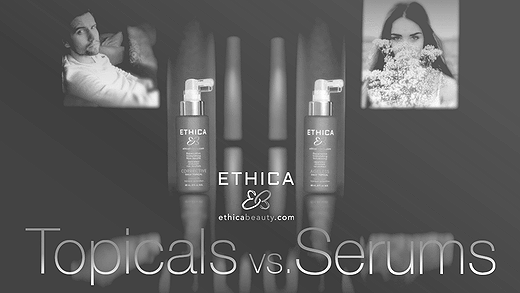 Topicals vs. Serums
Throughout the ages, hair has played a pivotal societal role. Throughout the ages, hair has served as a statement for certain religions, an indicator of economic status and to accentuate professional standing. For women it represents youth and beauty; for men it is a statement of virility and masculinity. So, when we start to lose our hair … well, we freak out!  Yet today, there are effective non-drug topical solutions that aid in the prevention of hair loss, as well as providing anti aging to keep those locks healthy, strong and beautiful.
Topicals vs. Serums
With so many products to 'repair hair' on the market, it's important to understand the difference between topicals and serums. Hair serums tend to be styling products that coat your scalp and hair to protect it – usually from styling tools such as dryers, hair irons, rollers. The shaft coating that a serum provides also protects hair from pollution, dirt, humidity and a variety of other environmental issues. The problem with serums is typically they are heavy, and can weigh down the hair and not be cosmetically appealing.
A hair topical product penetrates a targeted area to repair the scalp and hair shaft. There is different types of topicals to focus on different issues. At Ethica Beauty, our topicals are focused on anti aging and hair repair for men and women.
Ethica Ageless Daily Topical
Our Ageless Topical was developed with women in mind. Ageless mends inner hair fibers, increases hair strand fiber production and volumizes the hair shaft. We recommend Ageless for women who want stronger, healthy hair due to extension use, hormonal changes, light diffuse thinning, post-natal shedding or want to significantly improve their hair and scalp health.
Ethica Corrective Daily Topical
Corrective Topical is the hair solution for men that are losing their hair due to male pattern baldness – or women that are losing their hair due to female pattern hair loss. Corrective enhances cellular and DNA repair while providing anti inflammatory and stimulating molecules that also condition and strengthen the hair follicle.
With both men and women, Corrective works as an effective post-chemotherapy solution.
And all Ethica Beauty products are #sulphate free, #crueltyfree, #parabenfree, and #glutenfree.
Our products are offered exclusively at luxury spas and salons across the U.S.A. Check out our store locator to see where Ethica is sold near you: https://ethicabeauty.com/store-locator/.
#ethicabeauty #hairtech #hairgrowthtips #antiaginghair #nontoxicbeauty