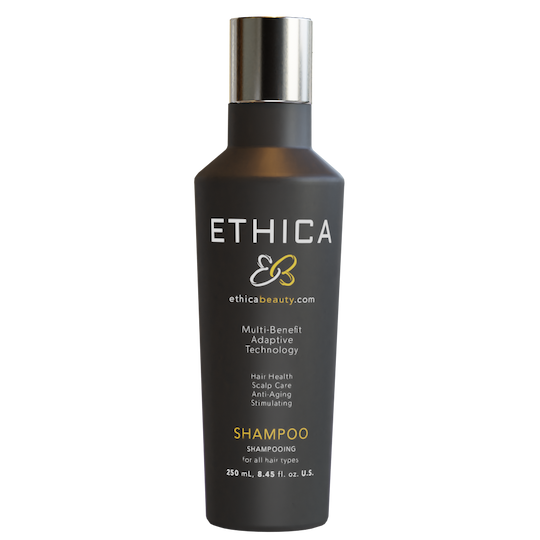 ETHICA Anti Aging Shampoo 250ml/8.45oz | 500ml/16.9oz | 946ml/32oz
Hair Health . Scalp Care . Anti Aging 
** SALE ** HUGE SAVINGS ON HALF AND FULL LITER SIZES UNTIL NOV 30
Consider this plant based shampoo an essential part of your daily care regimen
A balanced blend of biotech and botanicals, providing a professional level salon shampoo, anti aging components, all in one. A complete service for the hair, scalp and follicle.
Plant Based. Cruelty Free. Sulphate, Paraben and Gluten Free.
"An exceptional salon experience right in your own home"
Extend . Repair . Amplify
A concentrated formulation of amino acids, anti oxidants, plant extracts and essential oils protect existing hair. It strengthens the entire cuticle from root to tip, reducing breakage. It improves the look of density. Experience what a truly advanced multi benefit anti-aging shampoo can achieve – every day
Features & Multi Benefits
Professional salon quality
High efficacy formula for superior performance that's gentle enough to use everyday
Maximizes the potential of any hair type, regardless of age or gender
Provides anti-aging for the scalp, follicle, and hair shaft
Reduces shedding, protects
Maximizes potential hair length and count
Promotes optimum scalp environment
Thick luxurious lather
Lightweight formula rinses clean
Improves volume, smoothness and shine
Reduces frizz and flyaways
Base
Sulphate, paraben and gluten free – biodegradable
Multiple surfactants – coconut and plant derived
Foaming agents – coconut derived
Fragrance – ginger root derived
Formulated for / well tolerated for sensitive and allergic skin types
Non build up formulation
Extreme stability
Base Benefits
Anti static
Anti buildup
Great wet combability – enhanced glide and slip
Humidity protection
Heat protection
Reduces breakage
Reduces shedding
Improves elasticity and tensile strength
Increased flexibility
Increases moisture retention
Increased body + volume
Increases sheen + refractory shine
Smoothens + protects the cuticle and hair shaft
Corrects texture of hair shaft that has been physically or chemically damaged
Provides style memory
Provides texture + separation
Does not weigh hair down
Anti-aging/tech + benefits
Multiple skin conditioning agents
Improves the look of hair thickness
Improves the appearance of Volume

Notable Ingredients
Hydrolyzed Vegetable + Soy Protein
Panthenol
Biotin
Arginine
Grape Seed Extract
Ginseng Root
Arctium Majus Root
Rooibos
MSM
Saw Palmetto
Directions
After applying shampoo, lather with a gentle massage on the scalp, ensuring coverage of the hair as well. Leave on the scalp for one to three minutes before rinsing. Repeat first step, increasing the leave on time to between two to four minutes before rinsing
Leaving the product on long enough for the ingredients to penetrate and work is important for best results. Take the time – your hair is worth it!

This is a rinse and repeat product
The more often you shampoo, the better the results. For men, 4 – 6 times a week, for women, 2 – 5 times a week